TechGuard Security has just finished up sponsoring Vistage 2020 ChairWorld in San Diego, California. Vistage International is a peer mentoring membership organization for CEOs, business owners and executives of small to mid-size businesses. One of the benefits besides traveling to a warmer climate was the opportunity to speak and interact with business leaders across the country as well as educate mentors on the cyber risks impacting small and medium-sized businesses. After speaking to professionals from across the world, it became apparent that IT security risks to CEOs aren't just confined in the borders of the United States. We spoke to mentors on almost every continent that shared the same problem. Just about every adviser we spoke to had recently been impacted by some type of cybersecurity incident.

This is a huge problem for businesses, and it has created a lot of confusion on what to do to get in front of these hackers and start being proactive about understanding risk levels in general. Once hit by some type of ransomware, it's often hard for smaller businesses to bounce back. This can be because of several reasons. Perhaps, they might not have enough capital to fully recover their information technology systems while dealing with the incident. It could be that their highly sensitive data has been rendered unrecoverable without any backup procedures in place. Or even the cost to obtain the decryption keys to that data from hackers is far too high - either way these are real problems impacting business leaders right now.


What can you do? Get in front of these issues and take security seriously. Many doors can be closed to attackers by just doing a simple risk analysis on what vulnerabilities might be open to the internet.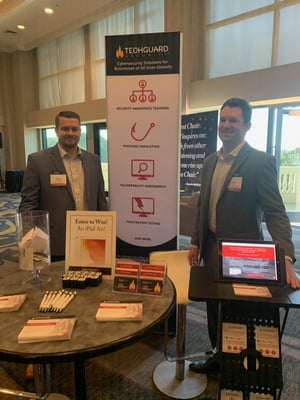 Making sure you have mandatory cybersecurity awareness training in place is a great way to level-set your collective employee knowledgebase. A start could even be as simple as creating a cybersecurity policy in the first place. Companies don't need to make $10M before they become a target for hackers. Often times, ransomware use is a more effective payout for bad actors at smaller companies because they will often just pay the bitcoin needed to hand over the recovery keys.

TechGuard has continued to warn businesses of these crippling attacks and assure them that it's not IF this will happen to them, it's WHEN - because these attacks WILL happen. As a committed and expert cybersecurity company, we will continue to use our platform and opportunities like Vistage 2020 ChairWorld to consistently bring awareness to this growing epidemic and help other businesses to stay one step ahead of an incident. Until next year, Vistage – we were very proud to represent our company in San Diego while extending a helping hand to the Vistage Chairs and their members.

Allie stepped into her role as PR & Marketing Specialist at TechGuard Security in November 2019 to help oversee, develop and implement marketing initiatives while serving as the day-to-day contact managing timelines, strategy and overall client/partner direction. As a mass communications graduate from SIUE with over 10 years of marketing experience, Allie is conversant in marketing/campaign strategy, brand development, social media marketing, graphic design, cross-promotional tactics, copywriting, public relations, event coordination and more. She has the innate ability to creatively plan, communicate, strategize and execute any project that is handed to her. Allie is a team-player, goal-oriented and strives for success amongst her teammates and colleagues. In her free time, she enjoys managing her graphic design side business, AKP Designs, spending time with her family and traveling as much as she can.